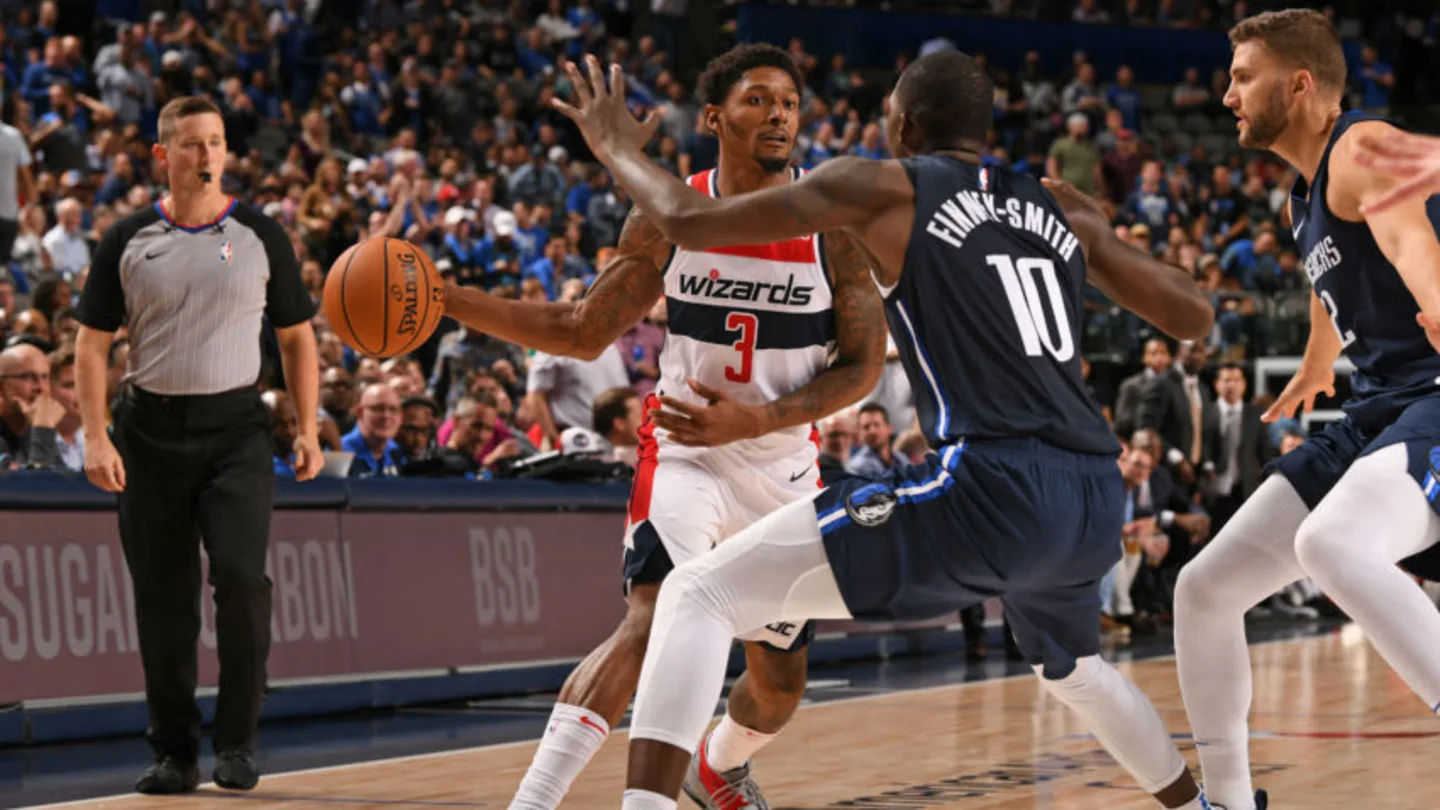 Tyler Herro Over 20 Pts
In three matchups against Miami this season, he has had 26, 22, and 25 points, with the 25 point game being without Butler. Boston has been terrible against pick and roll guards with a 17.2% percentile (6th worst) and he has a pick and roll frequency of 36% and has an 85% percentile. 36% of his points come from the pick and roll. Boston is allowing the 2nd most pullup field goals made this season and he by far is scoring he most pullup points per game (8.6) which is 41% of his points. With no Brogdon, Smart, Horford, or Brown, this is a good spot for him to take advantage of.
Bradley Beal Over 23.5 Pts
In two games without Porzingis, he put up 27 and 30 points. He's scored 17 and 18 points since slowly coming back from injury on 11 and 14 field goal attempts, but that is soon to rise because in both games without Porzingis, he shot 20 times each. He is averaging 18.4 field goal attempts per 36 minutes without Porzingis. Wizards are on the road tonight and he seems to average 4 more points away (24.5) versus home (20.1) on the season. He has gone over this in 9/14 games on the road this season. 26% of his points come from the pick and roll in which Dallas has a 31% percentile in defending it. 43% of his points come from drives. Dallas is allowing the 7th most field goal made inside the restricted area and paint (non-ra). 39% of his shots are pullups and Dallas is allowing the 10th most (including last 30 days). In two full games without Porzingis, he has had a 37% usage rate and it is 29% when Porzingis is rotated off the court. He will be needed tonight if they want a chance at winning this game and should have a high shot usage.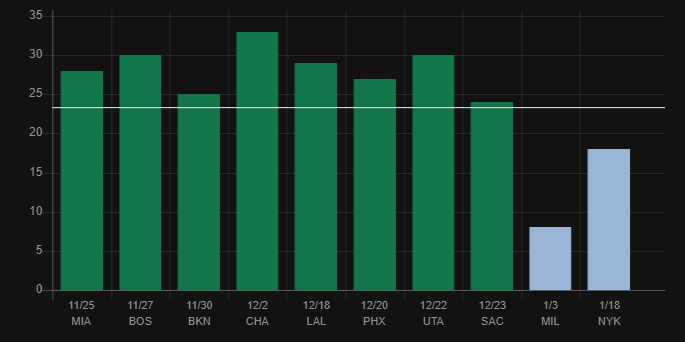 (L10 on the road chart)
Cameron Johnson Over 15.5 Pts
Hornets are terrible against catch & shoot players (allowing 4th most catch 7 shoot threes made per game), which gives Johnson an advantage as he scores 50% of his points off of catch & shoot threes. They have him listed as power forward in the starting lineup projections, and the Hornets are allowing the most points and threes made per 48 minutes to the position in the last 30 days. Hornets are also have the third worst spot up percentile (6.9%) and Johnson has a 47% spot up frequency. He has the third highest usage per 36 minutes when Payne, Ayton, Booker, and Shamet are off the court along with 17.7 points per 36 minutes.
Jayson Tatum Over 5.5 Ast
With Horford, Brown, Brogdon, Smart, and Williams are off the court, he is averaging 9.2 assists and 34% assists percentage per 36 minutes. Last game only Horford and Brown played out of all those guys and Tatum led the team in passes (52), assists (7), and potential assists (11). With all of those players out, especially the ball handlers, someone has to facilitate tonight and a lot of attention will be put on Tatum to stop his scoring as they will try to contain him and force others to beat them. They do not have another dominant scorer but last game only 1 assist went Brown and 1 assist went to Horford, so spot up shooters such as White and Hauser will need to step up and the good thing about that is how 54% of his assists come from three point shots.