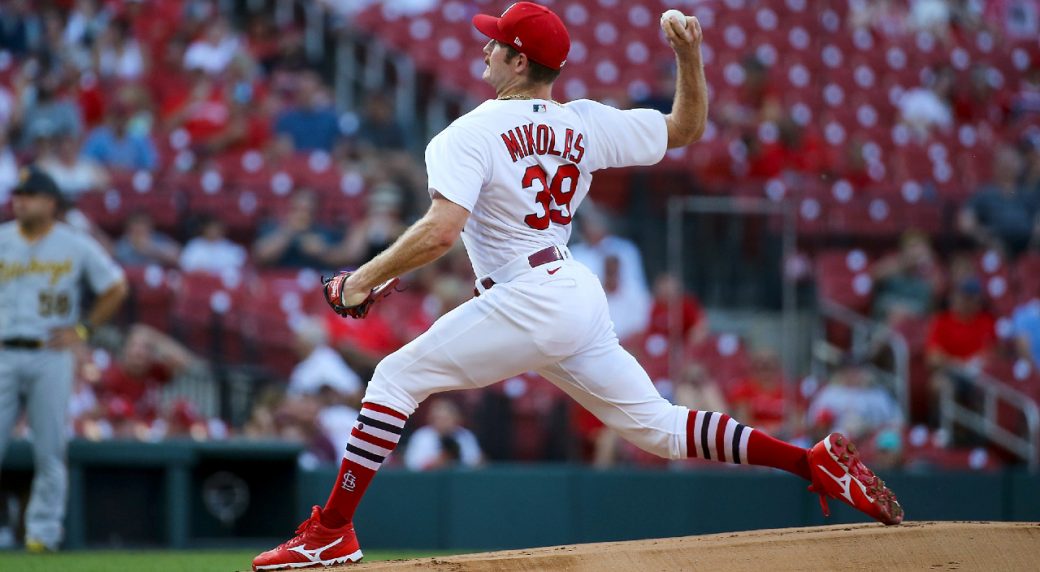 Pick #2: St. Louis Cardinals ML (-145 PointsBet)
The St. Louis Cardinals are primed to snatch a victory against the Pittsburgh Pirates in today's early game, with Miles Mikolas on the mound and Rich Hill struggling.
The Cardinals find themselves in an unusual situation, sitting in last place in the National League Central, but they're ready to make up ground in the division race today against the Pirates. They've got an ace up their sleeve with Miles Mikolas on the mound, who's been on fire lately with a 1.62 ERA across his last seven starts. Plus, he's had nine straight starts allowing three runs or fewer. Talk about consistency!
On the other hand, the Pirates are struggling to find their mojo, especially with the 43-year-old Rich Hill taking the mound. He's been having a rough go of it recently, with his ERA skyrocketing from 4.18 in April to 5.47 in May. Hill's also been known to falter at home and in day games, which doesn't bode well for today's early matchup.
Looking at the numbers, the Cardinals are the 3rd best team in the league when it comes to OPS in day games this year, while the Pirates are languishing in 22nd place. This glaring difference in performance is only going to work in the Cardinals' favor, as they look to take advantage of Hill's struggles.
The Redbirds have also been crushing it against lefties this season, with a top 9 offense vs LHPs. Considering Rich Hill's left-handedness, it's safe to say that the Cardinals' lineup is licking their chops in anticipation of today's face-off.
Meanwhile, Mikolas has been on a roll, bouncing back from a rocky start in April to post a 1.89 ERA in May. The Cardinals have won his last five starts, which have come against formidable offenses like the Angels, Red Sox, Dodgers, and the Reds. This recent surge in form is definitely something to keep an eye on, as it could be a major factor in today's game.
The Pirates' offense isn't doing them any favors either, coming off a month where they had the fewest home runs and the worst on-base plus slugging in the National League. They've scored four runs or fewer in 22 of their last 28 games, which doesn't inspire much confidence going into today's matchup against the seemingly unstoppable Mikolas.
On the flip side, the Cardinals' offense has been heavily reliant on home runs, ranking fourth in the league. Though they've struggled with batting average (ranking 19th), their power-hitting prowess should make a difference against the struggling Rich Hill.
To top it all off, the Pirates' bullpen ranks second in the National League in both ERA and home runs allowed per nine innings. This means that even if the Cardinals don't light up Hill early on, they'll have plenty of opportunities to score against a shaky bullpen.
So, let's break it down: we've got a red-hot Mikolas on the mound for the Cardinals, facing off against a struggling Rich Hill and Pirates' offense that's been anything but explosive. Add in the Cardinals' prowess in day games and their success against lefties, and it seems like all the stars are aligning for the Redbirds to soar over the Pirates in today's early game.
While there are no guarantees in baseball, it's hard not to get excited about the Cardinals' chances in this matchup. With Mikolas looking to continue his impressive run and the Pirates' offense sputtering, the Cards have all the ingredients they need to cook up a victory today. Don't miss this Sunday showdown – it promises to be a thrilling game with plenty of action on the diamond.