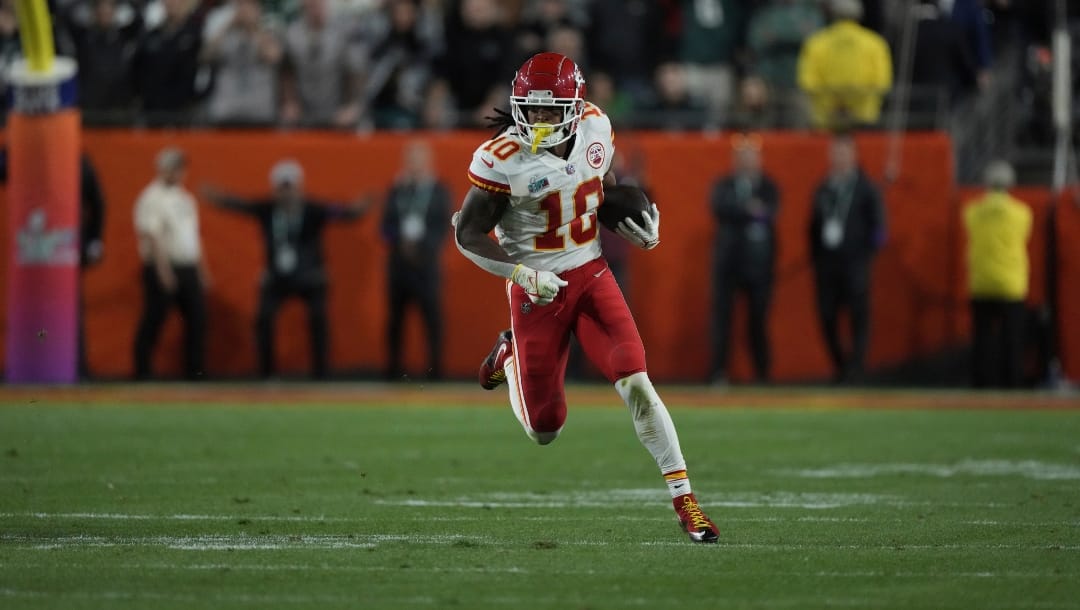 The Kansas City Chiefs prepare to face the Philadelphia Eagles in a Monday night showdown, and Isiah Pacheco's rushing yards are under the spotlight, but all signs point to the under 48.5 line as the wise bet. 
In a Super Bowl rematch, the Kansas City Chiefs host the Philadelphia Eagles on Monday Night Football. All eyes are on Isiah Pacheco with a rushing yards line set at 48.5 and the betting community is abuzz with speculations. However if you're looking for some sharp insight, I'm here to serve up some cold, hard stats that will have you leaning toward the under.
First, let's talk about the Eagles. These birds aren't just flying high; they're absolutely soaring on defense. They've locked up running backs ALL season, giving up the least rushing yards in the league. This isn't just a fluke, it's a consistent pattern that's been evident all season. Their defensive prowess is a significant factor to consider when estimating Pacheco's potential rushing yards. 
Now, let's turn our attention to Pacheco himself. He's having a solid year, but this Eagles rush D is a different animal. Pacheco is trending downward over the last 5 games with a 51 yard average, compared to his season average of 58 yards. He's gone under 48.5 rushing yards in 2 of his last 3 games. The Eagles will be foaming at the mouth looking to take advantage of this. 
To add another layer to the analysis, let's not forget about the Chiefs' quarterback, Patrick Mahomes. A quick look at his stats reveals he's sixth in the NFL with 2,442 passing yards. With a MVP QB who's that sharp with his passing game, and going up against the number one ranked Eagles rush D, the Chiefs will not need to rely heavily on their rushing offense. This will limit Pacheco's opportunities to rack up those rushing yards.
When you consider the Eagles' stingy rush defense, Pacheco's recent downward trend, and the Chiefs' reliance on a strong passing game, all signs point to the under for Pacheco's rushing yards. While Pacheco is undoubtedly a skilled athlete, the 48.5 line seems too high for this particular matchup. So, if you're looking to place a smart bet, go with the under. Trust the process, trust the stats, and let's see how the game unfolds. Let's lock this bad boy up and CASH OUT!
Pick: Isiah Pacheco Under 48.5 Rush Yards
JP👊🏾🤑