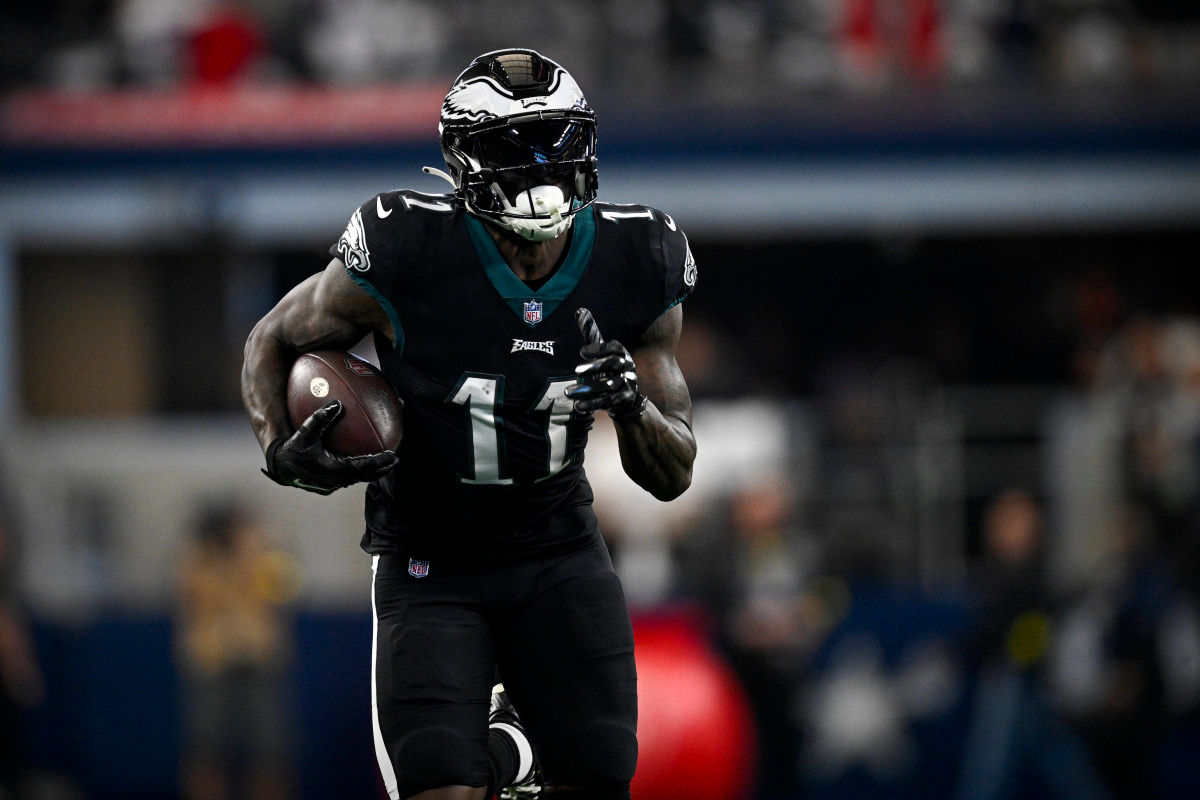 With a track record of surpassing the 6.5 receptions line in 7 of his last 10 games, A.J. Brown of the Philadelphia Eagles is set to continue his dominant streak against the Kansas City Chiefs.
As the Monday night lights shine on the NFL stage, the Philadelphia Eagles are gearing up to face the Kansas City Chiefs in a game expected to be a classic shootout. One player to watch out for is A.J. Brown, the Eagles' versatile wide receiver, who has been delivering phenomenal performances this season.
Brown is known for his big-play ability and knack for finding open space in opposing defenses. His consistent performance and reliable hands have made him a favorite target for the Eagles' QB. The Chiefs' defense has had its moments this season, but they've also shown vulnerabilities that players like Brown can exploit.
Recently, Brown has been on a tear, crossing the 6.5 receptions line in 7 of his last 10 games. His ability to consistently rack up receptions is a testament to his route running, reliable hands, and rapport with his quarterback. With the Chiefs' pass defense facing some issues, it's hard not to see Brown continuing his dominant streak.
Kansas City ranks 31st in run stop win rate, which may force the Eagles to lean heavily on their passing game. This situation sets up perfectly for Brown to have a big game. The Chiefs' secondary has struggled at times this year, and with Brown's skill set, he could be in for a significant number of targets.
Moreover, the Monday night game could see weather as a factor. If rain makes the field conditions less than optimal, the Eagles may rely even more on their short passing game, further increasing Brown's chances of going over the 6.5 receptions line.
Also worth considering is the absence of Dallas Goedert due to a forearm injury. His absence opens up more opportunities for Brown in the passing game, as Goedert's usual target share will have to be distributed among the other receivers.
So, while the Chiefs' defense will no doubt be doing their best to limit Brown, his recent performances suggest he's up to the challenge. If the past is any indicator, Brown is set to light up the field with his impeccable route running and steady hands.
Let's not forget the added motivation Brown has going into this game. These high stakes Monday night matchups are the perfect platform for players to showcase their skills to a national audience. And Brown, with his competitive spirit, is likely to rise to the occasion.
While no sports outcome is ever a 'lock', the data strongly suggests that Brown will continue his trend of high-reception games. So, for those of us in the betting community looking for a prop that offers good value, you might want to consider AJ Brown going over 6.5 receptions. This reception machine is geared up and ready to put on a show.