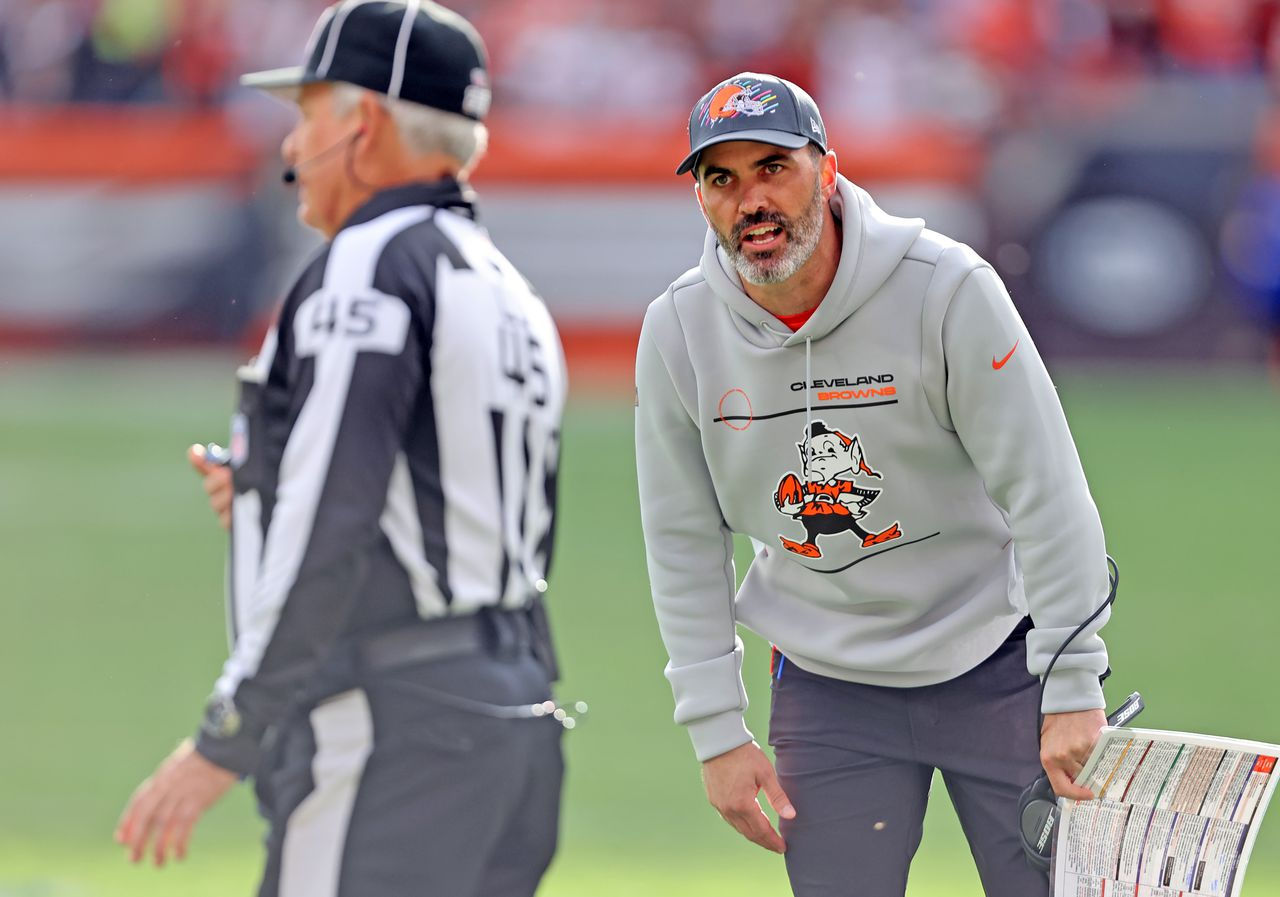 The Cleveland Browns' first divisional game left the Dawg Pound as hollow as a jack-o'-lantern and the ensuing discourse is only reinforcing the simple fact: the Browns are going to Brown.
---
Let's get this out of the way quick… The Browns are average.
The Browns' three losses in the first seven weeks came against hypothesized contenders: then undefeated Arizona, Los Angeles, and Kansas City before they completely imploded. Their combined record is 15-8 through eight weeks.
But when Cleveland's top win was against Minnesota, that's not as promising. With wins against Minnesota, Houston, Denver, and Chicago, they have only beat opponents with a combined record of 11-20.
So, a game against the longtime divisional rival Pittsburgh Steelers with a record of 3-3 was simply a tossup. Sure, Ben Roethlisberger was 23-3-1 against the Browns in his career, but one of those losses came in the AFC Wild Card Game last year.
Cleveland weathered a shorthanded win against Denver and the mini bye week meant Baker Mayfield, Nick Chubb, Jarvis Landry, and Odell Beckham Jr. would all be on the field for the first time since Week 4 in 2020.
A win and they keep pace with Cincinnati and Baltimore. A loss relegates the Browns back to the crypt of the AFC North. And did they ever drop the metaphorical candy.
Let's Talk About the Wide Receivers
For WR1 and WR2, the Browns have the highest total salary cap allotment at $33M per year, just ahead of the Buccaneers at $32.5M and the Rams at $32M.
Compared to Robert Woods-Cooper Kupp and Chris Godwin-Mike Evans, Landry-Beckham is comfortably last, averaging a combined 84.5 yards per game and have yet to score a touchdown. The LA pair averages 172.75 yards with 1.75 touchdowns, while the Tampa Bay duo records 150.5 yards and 1.5 touchdowns.
As a WR2, Landry's 45.5 yards per game isn't amazing, but only 12 yards behind fellow WR2 Woods. If you exclude Week 2 where he caught only one pass before suffering an MCL sprain, Landry matches Woods at 57.7 yards per game.
On Sunday, Baker Mayfield ended with 11 total incompletions, and dropped passes accounted for six. TE Austin Hooper dropped a potential red zone touchdown on the first drive. Cleveland ended that drive with a field goal. Week 7 hero D'Ernest Johnson added two drops. Rashard Higgins had a late drop and an ill-timed false start on the Browns' last drive to force a 3rd & 16. Finally, Jarvis Landry brought it to six with two final drive drops to seal the loss and a fumble on the penultimate drive, stunting the momentum from Mayfield's first down scramble just two plays before.
While it doesn't count for a drop and will never live on the stat sheet because of a roughing the passer call, Beckham missed a very completable reception on a deep ball right down the middle. On a pass that would have hit him in stride for a lead-changing touchdown, Beckham made no adjustments, slowed down, awkwardly jumped off one foot, and stuck one hand out, playing the pass like a defensive back rather than a wide receiver.
Beckham's issues with the Browns are well noted, prompting his father to post a compilation of Mayfield not targeting an "open" Beckham and LeBron James to tweet #FreeOBJ. However, in 2021, Beckham is one of only two Cleveland receivers with over four targets per game (5.67) and only 0.33 behind Landry. Simultaneously, he has the fourth most receptions at only 2.83 per game. He has a 0.5 target-to-reception ratio, the lowest on the team by nearly 6%.
In the entire NFL, Beckham joins Anthony Miller, Robby Anderson, and D.J. Chark as the only receivers to be targeted at least five and a half times per game, but average less than three receptions.
What Happened to the Run Game?
Despite losing Chubb for multiple games and Hunt going on the IR, the Browns still were the #1 rush offense in the league. With Chubb returning and Johnson coming off a career game, why in the world did Cleveland not run the ball?
Over the first eight games, Cleveland has only had more pass attempts than rush attempts three times. In Week 1, it was extremely close at 28 passes and 26 rushes. During the blowout loss to the Cardinals in Week 6, there were 12 more passes than rushes, but Chubb did not play, Hunt eventually left, and Cleveland was constantly playing catch up.
If Cleveland is going to win, they have no business passing the ball 31 times while only rushing 23 times. Chubb had a decent return, averaging 3.8 yards per attempt. Johnson averaged 5.5 yards per attempt, but only had four carries.
Standout Steeler Rookies
Despite Pittsburgh's lackluster offensive capability, Najee Harris continued to pave his way towards a near-certain Offensive ROY.
For the third straight week, Harris had over 100 total offensive yards and 80 rushing yards on 20+ attempts, heavily contributing to the Steelers' three-game win streak.
With the recent Derrick Henry injury, Jonathan Taylor now leads the NFL in most scrimmage yards for running backs at 914 total yards but has not yet had a bye week. Both Harris and Saints' Alvin Kamara are around 750 total scrimmage yards. With his increased rushing attempts in the past few weeks and JuJu out, Harris might make a run to lead all running backs in yards.
Rookie TE Pat Freiermuth notched his second consecutive game with at least 40 receiving yards and 4 receptions. He also reeled in an absolute stunner for the winning touchdown, joining Harris as the only Steelers to record a touchdown.
Watt vs. Garrett
The O/U heading into Pittsburgh-Cleveland sat at just 43 points, thanks to both team's defensive leaders: T.J. Watt and Myles Garrett.
As #1 and #2 on the sack leaderboards, Garrett added one sack and Watt 1.5. Looking at their season totals, Garrett edges Watt out in combined tackles by four and sacks by two, but Watt has forced three fumbles on one less game.
"You hold your opponent to 15 points, you should win a lot of games." – HC Stefanski 
I've said it multiple times in this series: the Browns' defense can be good. You don't hold opponents to 15 or fewer points in half of your games if you aren't at least a decent unit.
The Steelers only converted on 4-of-13 third down tries; however, all four were on scoring drives. After K Chris Boswell left the game with a concussion following an awful fake FG attempt, Pittsburgh went for every fourth down in Cleveland territory. They would convert both attempts.
Cleveland's defense relies on three-and-outs, but as soon as a team moves the chains once, they can march down the field on a 10+-play drive. Defensive playmaking has been a vital factor in this. While Myles Garrett leads the league in sacks and the defensive line has been unquestionably top 10 overall, no one else can make a game-changing play.
Final Thoughts
As I write this on Tuesday, the trade deadline has passed and OBJ remains a Brown despite interest from New Orleans. The discourse and ire I've seen from both fans and external media analysts is extreme, but founded. For fans, this Browns team had legitimate Super Bowl aspirations, delivering a sliver of hope for a starving fan base. For analysts, it's the recurring drama between a highly visible WR and a divisive QB. It's easy TV.
Unless the Mayfield-Beckham connection hits immediate highs, torn labrums and all, OBJ will leave after the season, probably for the best of both Beckham and Cleveland. HC Stefanski is confident they can incorporate Beckham into the offense more, but how else he could respond in such a situation?
While the future is promising for Cleveland around Stefanski, GM Andrew Berry, and Co., it looks less and less likely to come this season. The identity is not there yet. On both sides of the ball, Cleveland plays conservatively, playing much more not to lose than to win. That will get you some wins against poor teams, but will only lead to tough loss after tough loss against true competition.
Take this season to figure it out. Half the team is injured to hell and back, and an AFC Wild Card appearance is a success given the first eight games. Get the team to 9-8, have back-to-back winning seasons for the first time since the 80s, and get ready for the real push next year.
Or at least that's what I'm hoping for.
Wednesday Addendum
Odell Beckham Jr. did not participate in practice today after a "team-related" decision. HC Stefanski has reportedly told players that Beckham will not be with the team for the rest of the season.
If cut, Beckham will still be owed $8M and will become available on waivers. At the time of posting, it is unclear if Beckham's agent or the Browns forwarded release talks.