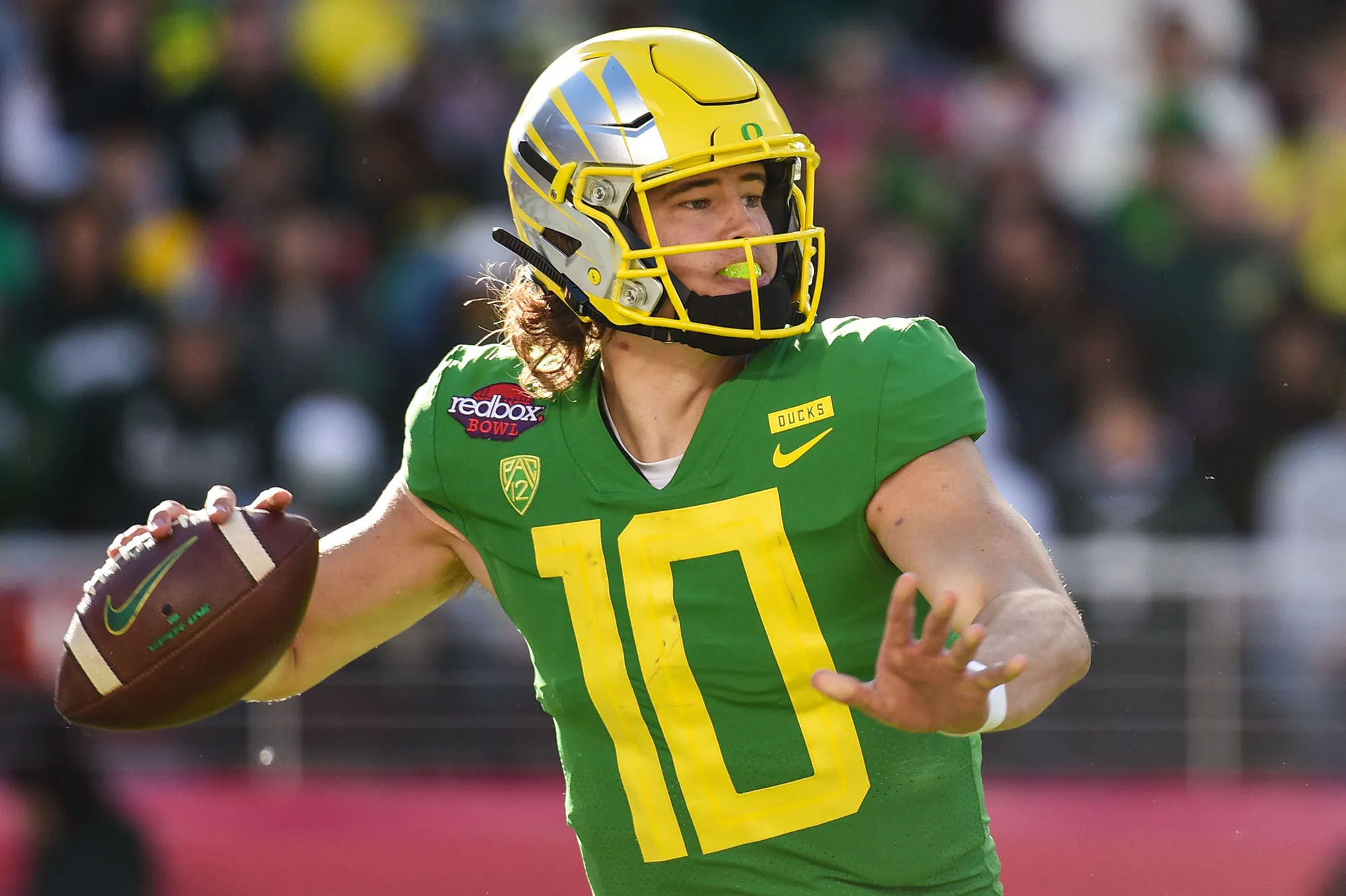 Who are the league's rising stars coming from the "Conference of Champions"?
--- 
Freshmen (2021 Class)
S Jevon Holland (Oregon) // Round 2, Pick 36 - Miami
Holland became a defensive mainstay for the Dolphins secondary in Week 5 and has played at least 97% of snaps in every game since. After settling in next to Brandon Jones, Miami has held QBs to under 250 passing yards in each of the last three games with a trending average reaching a season-low 225 yards.
Holland's versatility may be his greatest strength. In the Baltimore game this past week, Holland blitzed 22 times, pressuring Lamar Jackson six times and sacking him once. With this, he allowed only six yards on one reception despite being targeted four times.
If he continues this level of play and Miami continues to stifle quarterbacks, Holland may steal a few DROY votes from Micah Parsons at the end of the season.
OT Penei Sewell (Oregon) // Round 1, Pick 7 - Detroit
If this past Sunday against the Steelers is any sign, Sewell will be a right-side staple for a long time. To begin the season, Sewell had to move to the blindside when longtime Lion Taylor Decker couldn't start the season because of a finger injury. In Week 10, Decker made his first start of 2021 and Sewell went back to his normal home on the right side.
As a result, the Lions rushed for a season-high 229 points against one of the stoutest rush defenses in the league. Prior to the Lions game, the Steelers had only allowed 200 rushing yards twice in the past 69 games. Sewell did not give up a single sack, QB hit, or QB rush while facing T.J. Watt and the Pittsburgh defense.
Through Week 10, Sewell is the highest rated tackle in the NFC North, according to PFF.
Sophomores (2020 Class)
WR Michael Pittman Jr. (USC) // Round 2, Pick 34 - Indianapolis
The Colts struck gold in Round 2 of the 2020 NFL Draft. Not only did they secure the talents of Jonathan Taylor, the current NFL leader in yards from scrimmage, but they also added their next number one receiver in Michael Pittman Jr.
Pittman had a strong rookie year as Philip Rivers' third WR option, finishing with just over 500 yards, but only a single touchdown. With the absence of the long-tenured T. Y. Hilton, Pittman has increased his yards per reception, receptions per game, and catch rate to achieve over 700 yards through just 10 games, leading the Colts by over 400 yards. He currently has the ninth most receiving yards and twelfth most receiving touchdowns in 2021.
QB Justin Herbert (Oregon) // Round 1, Pick 6 - Los Angeles Chargers
In 2020, the Chargers debuted a new starting quarterback for the first time since December 31, 2005. The nod went to journeyman Tyrod Taylor, but after he suffered from chest tightness following an injection, rookie Justin Herbert became a starting quarterback and LA has never looked back.
In his rookie year, Herbert became only the third Charger and fourth rookie quarterback to throw for over 4000 yards in a season. He came short of breaking the all-time rookie passing yards record by just 39 yards, originally set by fellow Pac-12 alumnus Andrew Luck in 2012.
Over the past two seasons, only Patrick Mahomes and Tom Brady surpass Justin Herbert in regular-season yards per game (min. 16 games). Now fully entering the Staley-Herbert era of Chargers football, Los Angeles has their brightest future in over a decade.
Juniors (2019 Class)
P Jake Bailey (Stanford) // Round 5, Pick 163 - New England
As it stands, Bailey is the only Pac-12 alum from the 2019 draft class to not only make a Pro Bowl but also be a unanimous First Team All-Pro in 2020 (as voted on by Pro Football Weekly, Associated Press, Pro Football Writers, and Sporting News).
Through his first three years, Bailey averages just over 47 yards per punt, good for ninth place in that period. However, he truly shines in terms of maximum distance as, if you add together every punter's longest punts since 2019, he is third at 2415 total yards and is one of only three to surpass 2400 yards. He is second on average longest punt at 57.5 yards.
QB Gardner Minshew (Washington State) // Round 6, Pick 178 - Drafted by Jacksonville
After the quarterback-heavy 2018 draft class that featured two Pac-12 QBs selected in the top 10, Minshew was the only Pac-12 quarterback selected in 2019 and the second to last quarterback selected overall. However, Minshew has had a surprisingly solid career despite unfairly being benched in 2020 and having to head two lackluster Jaguar teams.
From the start of 2019 to 2020 Week 7, when he fractured his thumb and strained a ligament, he had more passing yards than Lamar Jackson, Daniel Jones, Jameis Winston, Drew Brees, and Matthew Stafford. His 3.09 TD-to-INT ratio (34 TD, 11 INT) was the fifth best in the league, behind only Tom Brady, Lamar Jackson, Derek Carr, and Russell Wilson.
Seniors (2018 Class)
LB Kenny Young (UCLA) // Round 4, Pick 122 - Drafted by Baltimore Ravens
The former Bruin has had a mixed time in the NFL, already on his third team in just his fourth year in the league. However, when looking at his past two seasons, fans are finally seeing the same linebacker who recorded 304 tackles during his college career. Young has recorded 50 tackles in three of his four NFL seasons, apart from 2019 when Baltimore traded him to the Rams and he held a backup role.
In 2021, Young has finally become a regular starter, first for the Rams and now the Broncos. Through just 10 games, he already has a career-high 58 total tackles and six TFLs. He has made an immediate impact on the Broncos' defense and has said "it's a special place to be" under HC Vic Fangio.
NT Vita Vea (Washington) // Round 1, Pick 12 - Tampa Bay
Lining up alongside Ndamukong Suh and William Gholston, the former Pac-12 DPOY cements one of the league's best rushing defenses. In his first full season as a starter in 2019, he notched 35 total tackles and 12 quarterback hits along with his first offensive touchdown. In Week 12, he caught a one-yard touchdown pass from Jameis Winston, becoming the heaviest player in NFL history to do so (347 pounds).
After missing most of the 2020 season due to right leg and ankle fractures, Vea's presence has cut opponents' average rushing yards from 90.7 to 78 and their average yards per carry from 4.11 to 3.55. While nose tackle is far from the most glamorous NFL position, Vea's unwavering ability to occupy two to three offensive linemen allows the Bucs' four linebackers to make plays again and again.