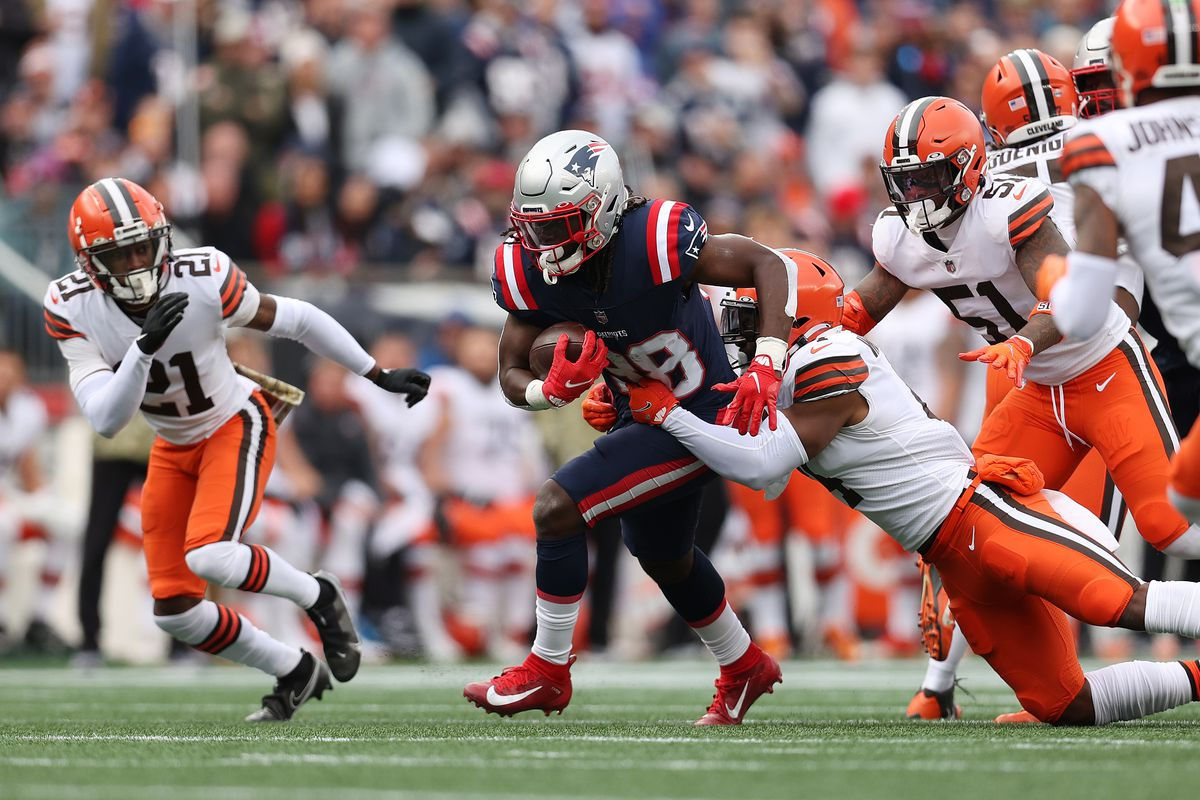 In a turbulent AFC, Cleveland traveled to New England in a game that may have massive future Wild Card implications.
---
Football is a weird sport.
The mantra of "Any Given Sunday" is one of the truest cliches in sports. Even if the numbers, analysis, and predictions all point towards an obvious outcome, a winless team has a higher chance of claiming victory against an undefeated team in football than in any other sport.
Just last week, Buffalo lost to Jacksonville while being 15.5 point favorites. Before Sunday's action even started, Miami shocked Baltimore on their way to a 12-point win when 8.5-point underdogs.
More so than most years, there truly seems to be no "true" Super Bowl favorites. Every NFL team has major question marks surrounding their health, their experience, or their consistency.
For the Cleveland Browns, it's gone from concerns of the former to worries of the latter.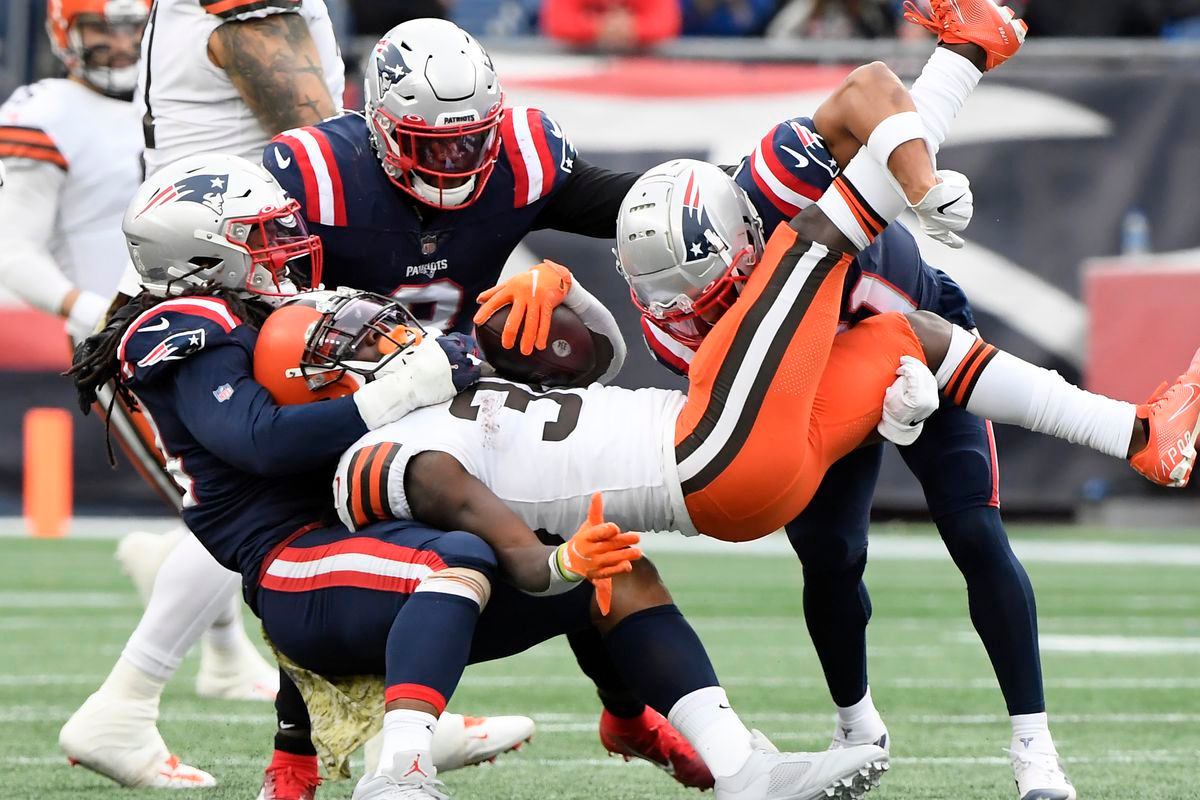 Heading to Foxborough, both Cleveland and New England looked to have turned the corner and primed to make a push for the playoffs. After the OBJ drama, Cleveland delivered their most complete game of the season against the Bengals, and it appeared momentum was on their side. New England was one of the hottest teams in the league after winning three straight by a combined 62 points.
While both teams scored touchdowns on their opening drives and it looked as though it would be the close game we had predicted, things quickly devolved for the Browns.
On the second Cleveland drive, Mayfield threw an awful pass that safety Kyle Dugger intercepted easily to set up the New England offense for an easy five-yard rushing touchdown on the very next play. Hope remained, even after Cleveland stalled out on their next drive and punted the ball away down 14-7. Despite his early season struggles, punter Jamie Gillan continued his excellent play the past few games by downing the punt within the New England 2. After a receiving team holding call, the Patriots started their drive just a half yard out of their own end zone.
Just one three-and-out and Cleveland can tie this game on a short field.
Then, inexplicably, DC Joe Woods sends out a dime defense. Up a touchdown and only midway through the second quarter, I cannot fathom a single situation in which New England passes the ball at their own half yard line on first down. Maybe a quick slant or tight end flat route, but nothing that justifies rolling out six defensive backs.
Rhamondre Stevenson gave the Patriots five yards of crucial room on this play. New England would go on score a touchdown to cap off an 11-play, 99-yard drive.
At this moment, I knew there was no way the Browns were going to win this game. Despite the rookie starting quarterback and running back, New England has the experience Cleveland lacked this game, not so much on the field, but on the sidelines.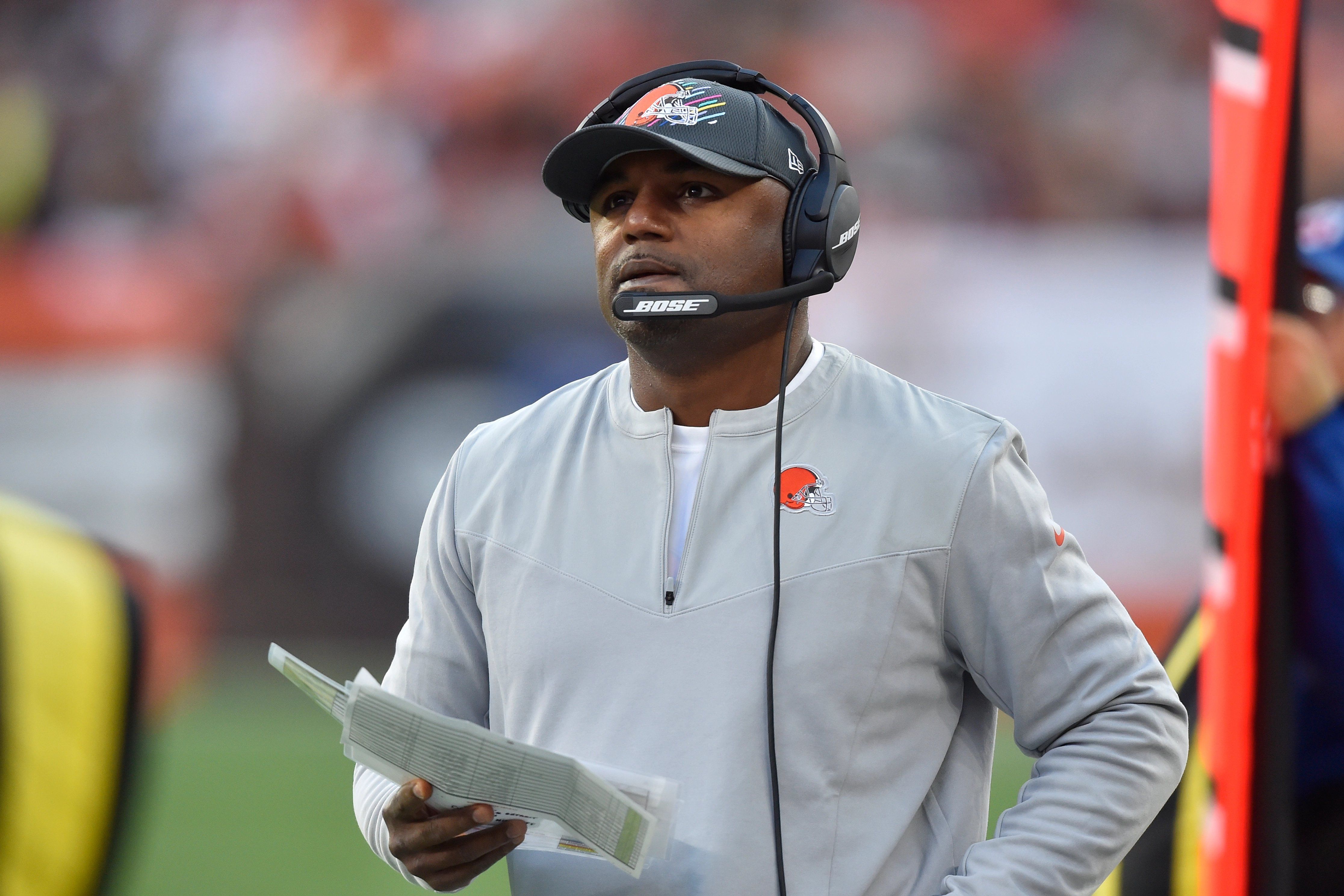 After the first drive, Bill Belichick made all the adjustments necessary to stifle the Browns' offensive game plan, as Cleveland would never score again after the opening drive.
For Cleveland's defense, DC Woods prepared for the New England matchup linearly and made no adjustments to halt what was an obviously well-oiled unit. It even prompted Myles Garrett to comment post-game "We never had a chance just because we didn't make any adjustments on the sideline or when we had time to". Offensive lineman Joel Bitonio added, "I don't have an explanation besides we got outplayed and out-coached".
Third Down Woes Return
Throughout Sunday's game, the Cleveland Browns forced only a single punt on a three-and-out to start the third quarter. Other than that single instance, the Browns could only stifle New England's offense on one other third down when Myles Garrett deflected a pass late in the second quarter. Cleveland's inability to stop extended drives and defensive plan of "wait for Myles to do something" has led to the team's ugliest losses of the year.
The Patriot's 7 for 9 third down mark is the second-best, single-game third down percentage this season and is only the second time a team has converted over 75% of their third down tries. Overall, New England averaged 7.3 yards per play, but on third downs in the first half, they averaged 13.57 yards.
Conversely, Cleveland only converted a single third down on 11 attempts, making them only one of six teams to convert under 10% of their third downs this season. Over these 11 attempts, Cleveland gained just 10 yards with only two positive yardage plays to join sacks, incompletions, and the rough-looking Mayfield interception.
The Inconsistent Defense
In a tale of two seasons, Cleveland's defense went from a data analyst's dream in the first four weeks to the league's ugly duckling in the past six. In the first four games, Cleveland was the league's fifth-best team in terms of points allowed at 16.75 and second best in total yards allowed at just 250.25.
However, since the Chargers shootout game, Cleveland has been the ninth-worst team in yards allowed, ballooning their total by over 120 yards. They are also the league's third-worst team in points allowed at 29. Mind you, this also includes three amazing defensive efforts against the Broncos, Bengals, and Steelers where they only allowed a combined 45 points - a total the Patriots matched all by themselves.
Joining the New York Jets and the winless Detroit Lions, Cleveland is only one of three teams to allow over 35 points in three separate games.
The Inconsistent Offense
While the defense and DC Joe Woods have rightfully received the ire of Browns fans in the past week, the occasional dysfunction of this offense further proves Cleveland is a team with a lot of talent but lacks something to harvest it all.
Mayfield and Case Keenum combined for only 154 yards. Again, they failed to establish the run game early despite D'Ernest Johnson averaging 5.21 yards per attempt.
Cleveland has the third-largest score standard deviation among all teams this year at 12.54. Above them is New England, but the Patriots have never scored fewer than 17 points in a game this season - a feat Cleveland has "achieved" three times. New England's large deviation comes from two huge offensive outings where they scored 54 against the Jets and 45 against the Browns.
Buffalo has the largest standard deviation but has had only three games where they have failed to score 30 points. The Browns have scored 30 only thrice.
Final Thoughts
Much quicker than many of us imagined, the Patriots look like a playoff team again. That defense is scary and Mac Jones has clearly been the best rookie quarterback through ten weeks.
Bill Belichick secured his 250th regular season win with the Patriots against his old team. He now has the third most regular season wins with a single team behind only George Halas and Don Shula. Belichick is also third in total wins at 317 (including playoffs) behind these same two coaches.
Of the Browns, I am overly scared of the Lions this week. Detroit tied with the Steelers this past week and should have beat the Ravens in Week 3. If the Cleveland sideline comes in with a conservative game plan and cannot make the adjustments throughout the game, they may just fall to a Detroit squad desperate for their first win.