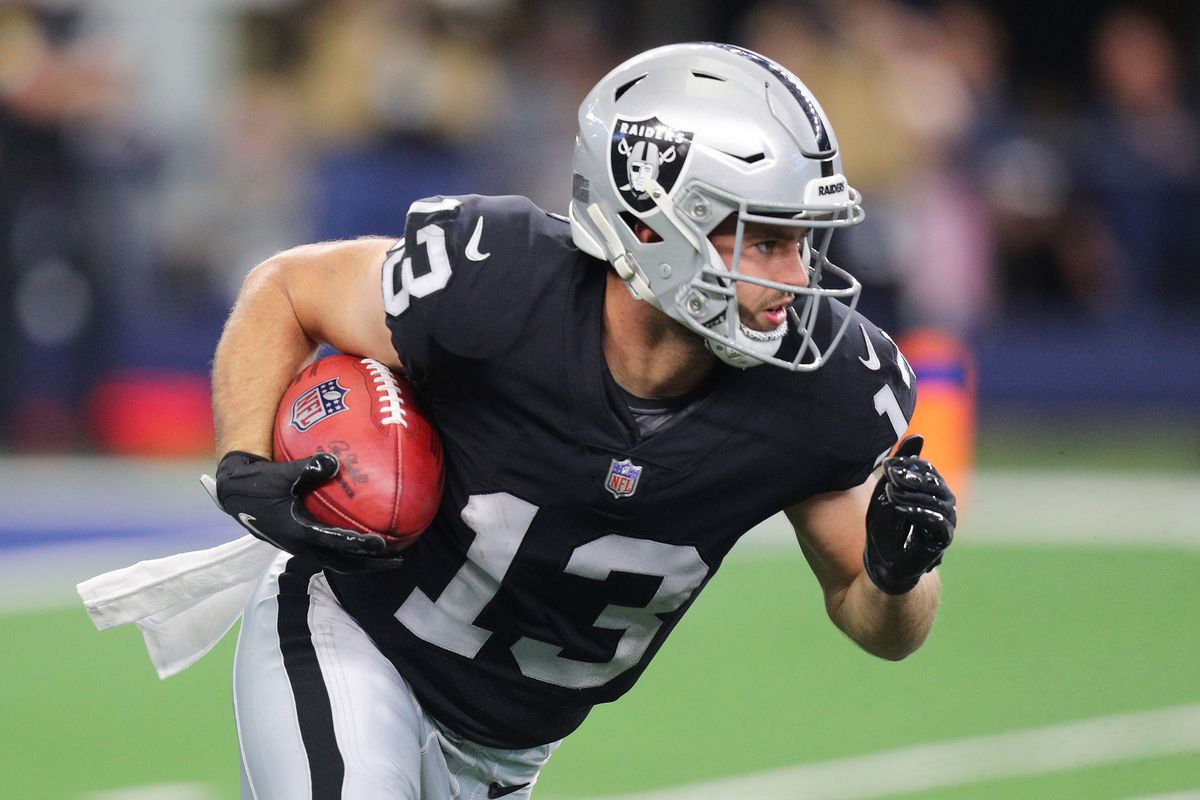 Hello and welcome to another edition of my column detailing what I think are the best bets on a night by night basis.
For these picks, I will of course be using the Pine explore tool to give you the BEST player props and spread picks. Along with Pine's amazing AI tools, I'll also be using injury news, and other statistical information to keep you informed on each bet. Last week, I brutally whiffed on my lone NFL pick but went 2/2 on my NBA player props. But with a nice slate of NFL Playoff games, there are some very interesting locks that I think you should by eyeing tomorrow
Hunter Renfrow vs Cincinnati: Receptions Over -110 (Line 5.5)
Ever since the Raiders lost WR Henry Ruggs to his ongoing legal issues, Hunter Renfrow has become a stud in the Las Vegas passing game. He has put up 1,000 yards receiving and has cemented himself as the apple of QB Derek Carr's eye. That's why I am loving the over on a very underwhelming 5.5 line.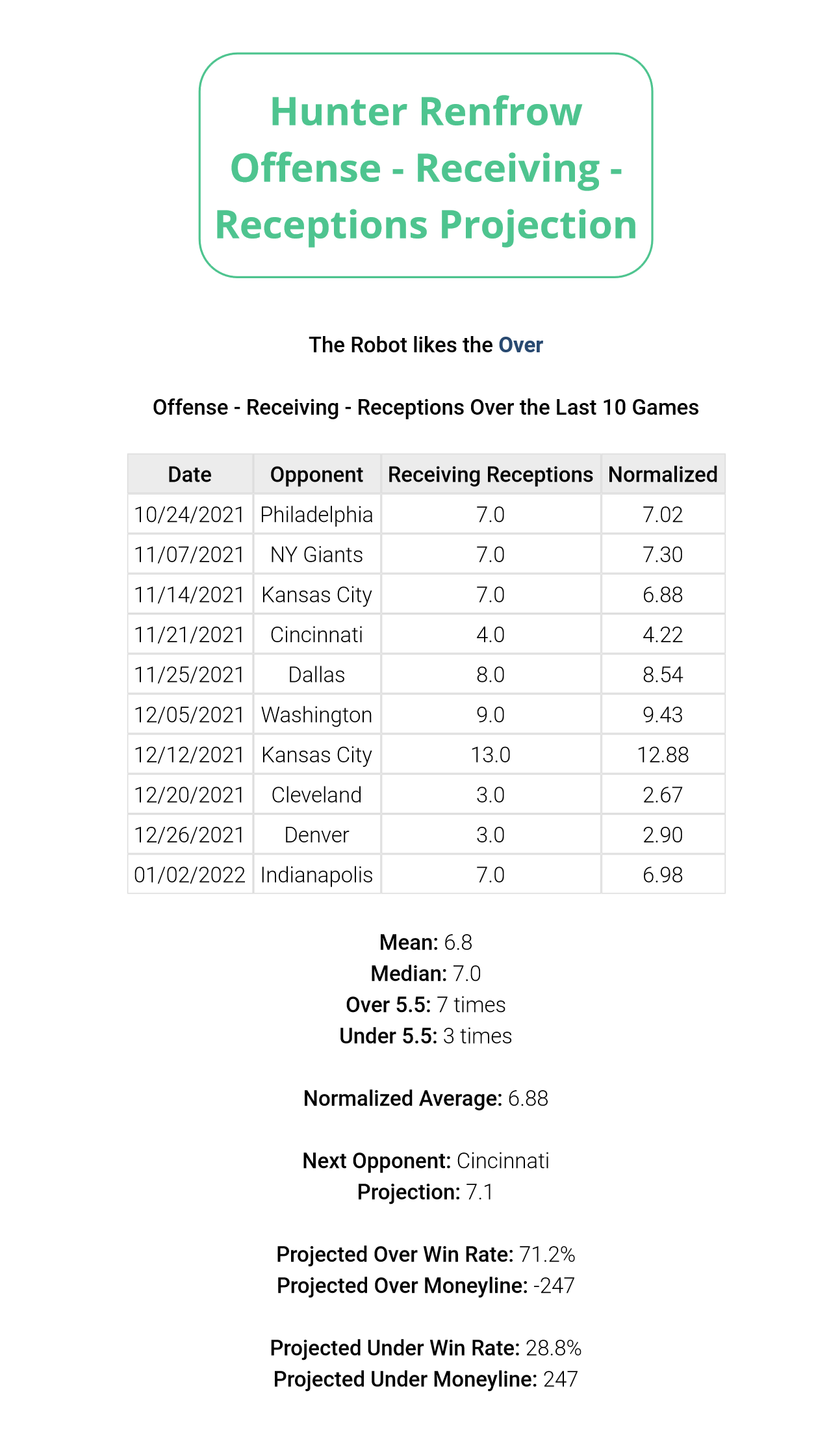 As you can see the robot is loving this pick giving it a whopping 71% chance of hitting. Since Henry Ruggs began his absence from the team Renfrow has been averaging 6.5 receptions a game. It's a good matchup for Renfrow too, as this Bengals team is 7th in Passing yards allowed and 3rd when playing at home. Meanwhile, Cincinnati is a top five team defending the run which should mean a pass heavy game script for Las Vegas with a shaky Josh Jacobs in the backfield. All in all, this is a very exciting match up and one that should lead to plenty of targets for Renfrow.
Hunter Henry vs Buffalo: Receptions Under -170 (Line 3.5)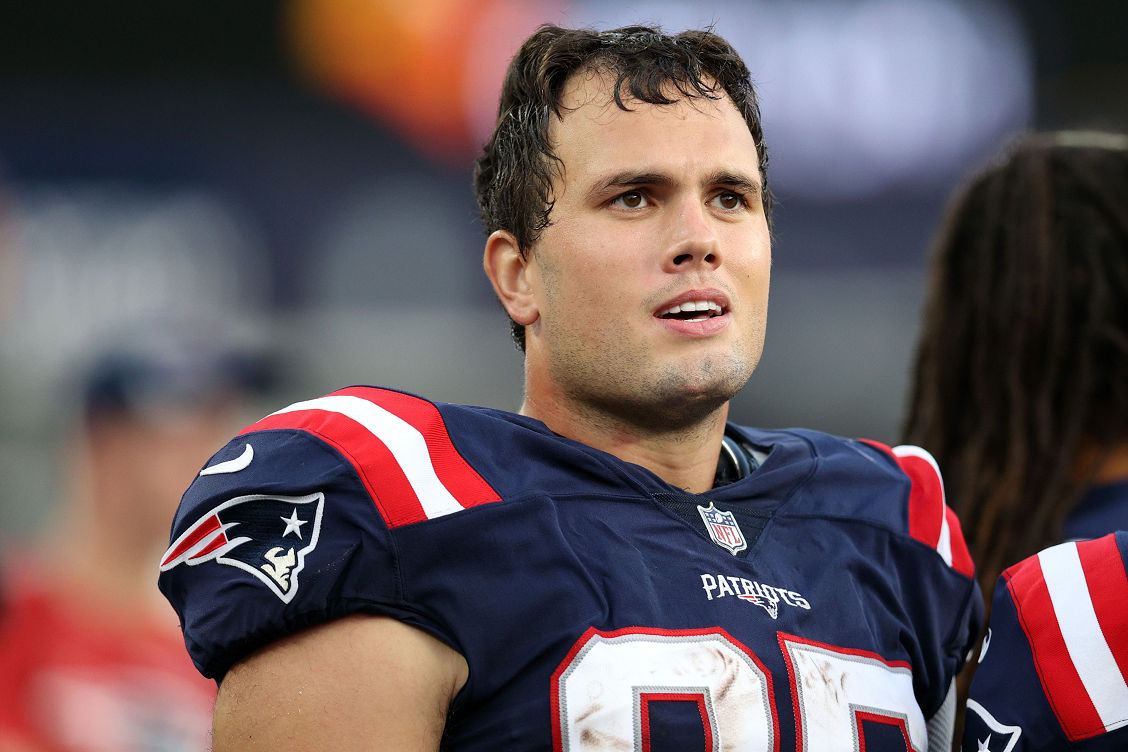 Sticking with the players named Hunter receptions trend, I'm going the opposite direction with Hunter Henry. This is going to be a tough matchup for this New England offense especially considering the near blizzard conditions that they will be playing in.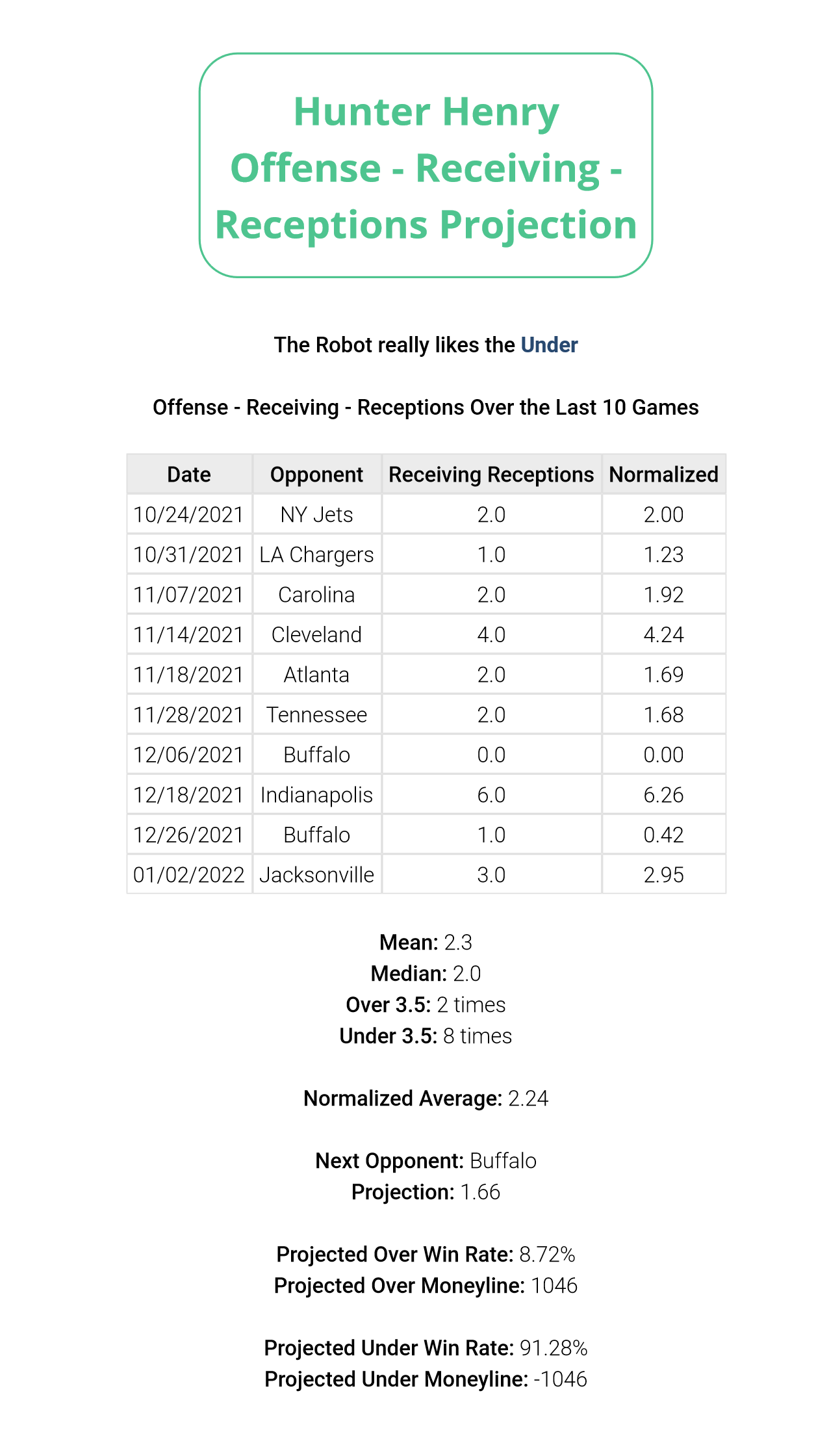 As you can see the robot is giving this a whopping 91% chance of hitting the under and while that may seem unbelievable at first consider this. Since week 5, Hunter Henry has only topped that all-important 3.5 receptions three times.The Bills have allowed a league best 54 receptions to Tight Ends. In two matchups, Henry has had 1 reception against the Bills and is averaging 3 targets per game against Buffalo. The bottom line is that this is a Patriots offense that runs the ball alot, 6th most to be exact, and will be forced to run it even more in a potential ice bowl. Henry is an at best 3rd option in an offense that doesn't like to pass so im hammering the under here.
Josh Allen vs New England: Interceptions Over -125 (Line 0.5)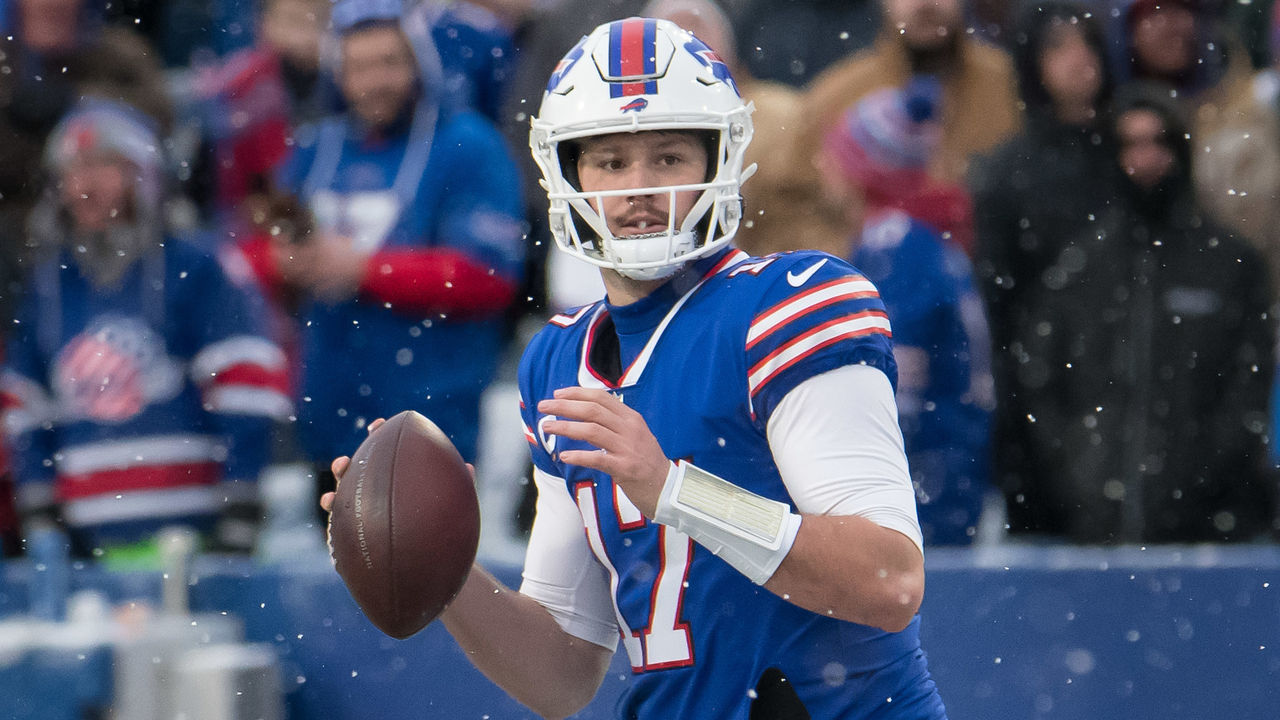 Last time I made a pick like this, it blew up in my face. But, this time I have the backing of the robot and a horrid weather forecast for passing the ball. Oh and did I mention he's up against one of the best defenses in the NFL?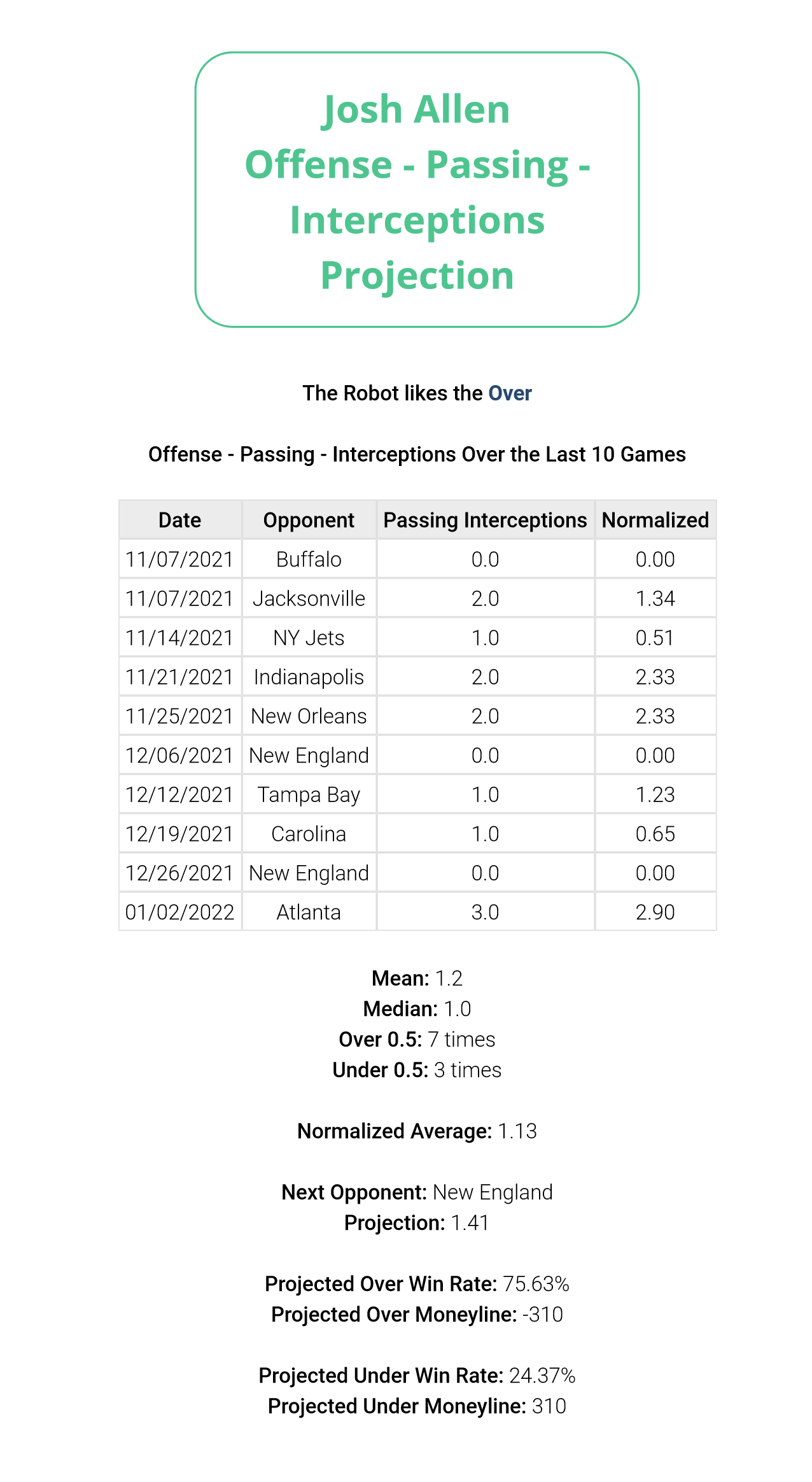 This is a Patriots defense that is insanely good at ballhawking, so much so that they rank 2nd in INTs with 23. Josh Allen on the other hand has taken a step back this season with his decision making. He has thrown in an interception in 10 games this season and in 7 of his last 10. According to Weather.com, we're looking at single digit temperatures and double digit wind gusts. In the 5 games where Allen has had to play in below freezing temps, he's thrown INTs in 4 of them and has a awful 50% completion rate. Interception bets are hard but this one might be worth throwing in your Saturday Parlay.