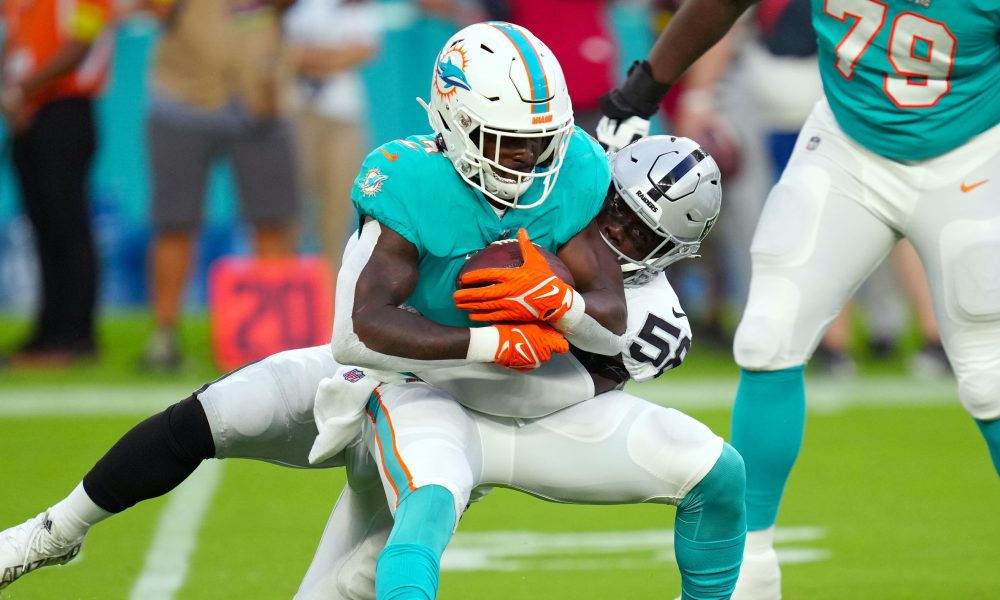 1U Chase Edmonds (MIA) under 9.5 rush attempts (-120) available at DraftKings Sportsbook at time of publishing. Playable to -130.
Chase Edmonds and Raheem Mostert were both backfield additions for the Miami Dolphins in the offseason and the way in which their usage would be split up was up in the air. Well, two weeks in and that is still largely in the air, but I believe week 2 gave us some takeaways as far as what to expect moving forward. Week 1 saw Miami lead 17-0 at halftime and coast to a 13-point win over the Patriots, but they only ran the ball 17 times with their running backs. Week 2 saw a furious comeback to win against the Ravens and their pass-heavy approach resulted in 16 carries between the running backs. What is interesting is that Edmonds out-carried Mostert 12-5 in game 1 but was out-carried by Mostert 11-5 last week. Mostert also saw the same number of targets as Edmonds last week which seems unlikely to remain true but the point is Mostert is clearly in the plans of this offense. Mostert was with Mike McDaniel in San Francisco and his vicious 1-cut and run style fits well in McDaniel's scheme. I expect to see Mostert continue to receive the bulk of early-down and short-yardage carries while Edmonds remains used in the passing game and in 3rd-down situations more. 
Edmonds has carried the ball 17 times for 58 yards so far this season with one of those carries being for 28 yards last week. It is important to note context as that was a no-huddle situation where Miami surprised the defense with a draw play and Edmonds made a play. His other 16 carries have resulted in 30 combined yards and he has the 5th worst rushing DVOA if any running back in the league so far. His lack of success on the ground paired with a competent option in Mostert leads me to believe week 1 will be one of his higher carry totals this season. Buffalo is a very tough defense but their secondary is actually very banged up currently. They are expected to be without key members of their backend and I expect Miami to utilize a quick passing game to move the ball against the best pass-rush in the league so far. Miami's defense has serious concerns on the other side while the Bills have looked like a juggernaut offensively and Miami will need to pass the ball to keep up in this game. Tua has seen his attempts prop move from 34.5 to 36.5 since opening which signals that others agree we will see heavy passing volume from the Miami side. As you can see in the graph below, Edmonds has never been a workhorse back in his career and is better in a complementary role where he doesn't run between the tackles as much. I think this number is too high for his median outcome in the game script I expect to see and will fade the Dolphins running back as a result.