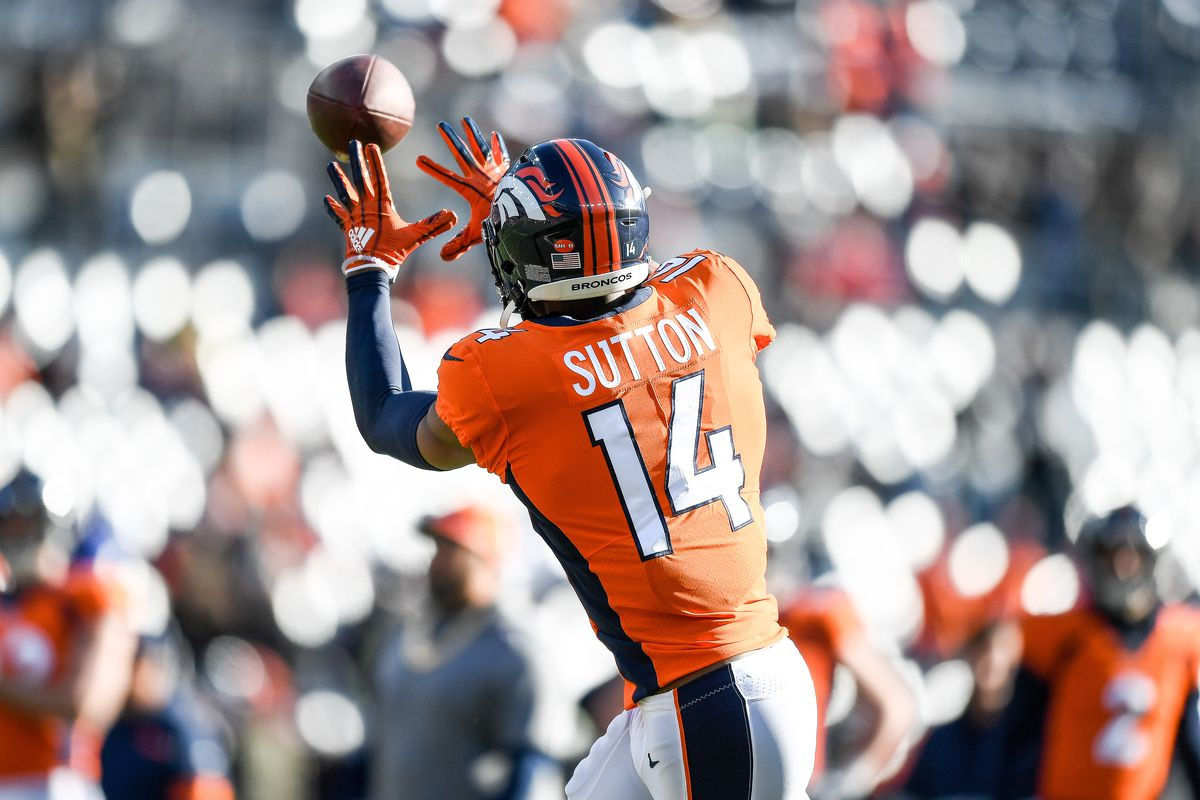 1U Courtland Sutton (DEN) over 67.5 receiving yards (-115) available at time of publishing. Playable to 69.5. 
There is no question who has been Russell Wilson's favorite pass-catching target in his 3 weeks as a Denver Bronco with Courtland Sutton receiving a 27.7% target share. Sutton has been thoroughly impressive in his first 3 games with his new QB as he ranks 6th in the NFL in yards per route run among receivers with 20 or more targets and 3rd among receivers with 100 or more routes run. His 291 yards through 3 games (72 or more in each game) leads the team by 161 yards and he has received 10 and 11 targets in his last 2 games. Even his last game against the 49ers was one of the tougher matchups he will have all season and Denver scored only 11 points, but Sutton still ended with 87 yards on 8 catches. 
Not only is the heavy target share there, but Sutton is an explosive playmaker as well. He has had a catch of 30 or more yards in each of the first 3 games and his 13.6 ADOT is impressive considering he is used in the short passing game as well. He is running a route on 91.3% of his snaps and is on the field for 96.2% of passing play. Sutton ranks 9th in the NFL in air yards + yards after catch per game this season which highlights a unique group of players that are capable of doing both things. His 8 catches of 15 or more yards down the field leads the NFL and he ranks 3rd in the NFL in contested catches with 5. Yesterday Russell Wilson said, "I think people need to know who Courtland Sutton is and they're starting to recognize how special he really is." From someone who is fresh off playing with DK Metcalf and Tyler Lockett that speaks loudly. 
When looking at Sutton's past production is is important to remember he had Teddy Bridgewater, Drew Lock, Case Keenum and Joe Flacco throwing him the ball. No disrespect to the other QBs, and I'm aware Russ isn't looking to be his best self currently, but Wilson is by far the best QB Sutton has ever played with. Despite shaky QB play throughout his first 4 seasons, Sutton still has a 15.2 yards per catch mark for his career and seems to be fully healthy at the moment which has been a concern of his in the past. This matchup against the Raiders presents a softer matchup than he had last week against San Francisco. Las Vegas allowed Keenan Allen to haul in all 4 of his targets for 66 yards before leaving the game after only 22 snaps played with injury in week 1. Week 2 they allowed Hollywood Brown to record 6 catches on 11 targets for 68 yards. Last week the new Titans number 1 wideout Robert Woods had his best game as a Titan with 85 yards while catching 4 of his 9 targets. The Raiders rank 22nd in pass rush grade according to PFF and Denver is 4th in pass blocking grade so Wilson should have plenty of time to let patterns develop down the field and Sutton should be the beneficiary against the 25th graded coverage unit. I love this spot for the 5th-year wideout out of SMU and expect another solid performance.